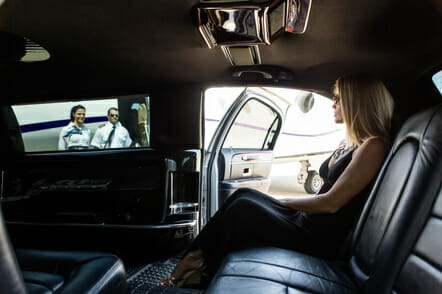 DECADES OF EXPERIENCE We're not the new limo company on the block  We are the veteran company of the Wilmington, Delaware area. Through years of trial and error in understanding individual consumers on what they want and what creates the most memorable experience, we believe we have the formula down.
SATISFIED CUSTOMERS Above all else we prioritize customer satisfaction.  There isn't much of a reason for shiny vehicles and personable chauffeurs if we don't have a customer base that likes what we provide.  Rest assured that, if nothing else, you will enjoy yourselves with our service.
NEVER LATE What is late?  We aren't familiar with the term.  In our experience, early and waiting patiently is the only number on the clock.
AFFORDABLE PRICES Keep your wallet, pocketbook, checkbook, and credit cards away for the time being.  We have such affordable pricing that instead of checking your bank account, you'll be worried that we miscalculated. Our belief is that if the experience is memorable, high prices are unnecessary.  Every customer will return and refer.
BEAUTIFUL LIMOUSINES What's the point of renting a limo of you're not impressing people!  All kidding aside, it is important to for the limousine of your choice to be aesthetically pleasing inside and out.  We believe we deliver in that aspect 250%.
PASSENGER ACCOMMODATION  I know you're the most popular person in Wilmington, Delaware. If it were up to you, you'd book a limo upwards of a thousand passengers.  While we can't accommodate that many, we have yet to be asked for a number that we could not service through our decades of experience in this industry. Break out your phone book.  We can handle it.
Get a free quote RIGHT NOW by calling us at
302-604-5505